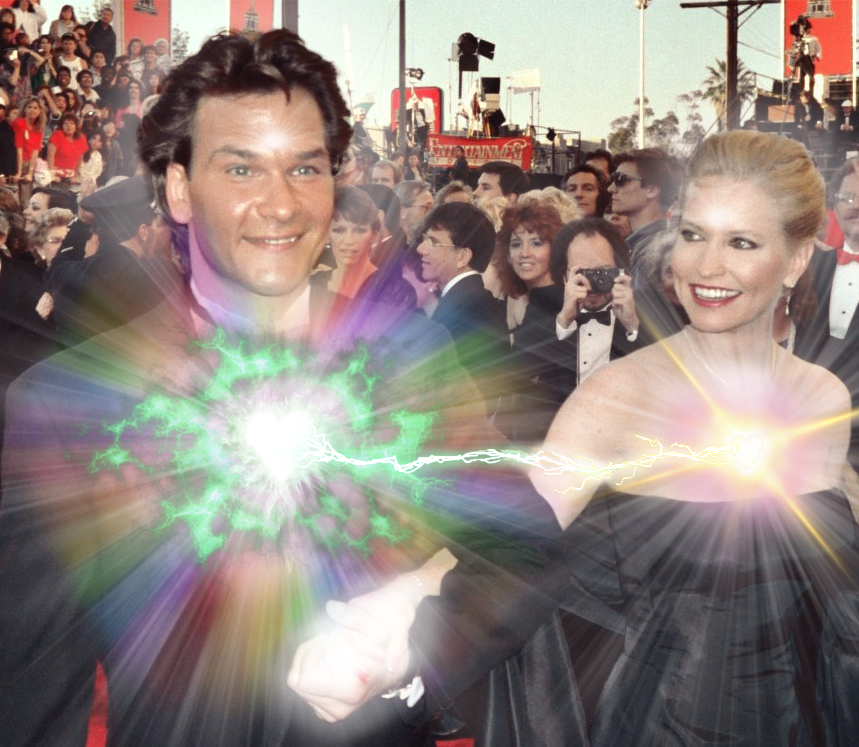 Patrick Swayze beams with gratitude and joy as his wife, Lisa Niemi, lovingly shines on him with pride and admiration; their hearts synergize, inspiring all who look on.
Almost all adults have had an experience of being overwhelmingly moved by a piece of human creation. For some of us, it's unexpectedly getting to see a renowned artist's work with our own eyes—for others, it comes during conscious and deliberate time spent enjoying literature, music, film, or surroundings we're drawn to and love.
These moments can help us get in touch with our own creativity, remind us of likes that are integral parts of our personalities, and reintroduce us to feelings from which we've been disconnected for years, if not decades. In many cases, witnessing that one piece of art, hearing a penetrating song at the right moment, or marveling an architectural wonder feels like falling in love or coming home. Something someone else created helps us better know and love ourselves. We enter into a timeless relationship with a person we've likely never met, and the encounter reminds us we are all connected by the human capacity for creativity. At the same time, that moment—you know the one—is deeply personal, something you'd struggle to put into words.
As we focus more on self-care, creating healthy relationships, and honoring our own creativity as a path to wellness, it's clear that feeding ourselves inspiration is essential, especially at a time when we're thinking about love in all its forms. That said, despite being more connected than ever, a lot of noise and input we encounter results in passive consumption rather than creative engagement. We can't always travel to find inspiration, but there are so many ways we can fill ourselves with spirit.
Press Play on an Emotionally Evocative Film
Looking to create a magic moment (for yourself or to share) this Valentine's Day? We've spent this month thinking about how feeling-filled film can inspire and suggest making time for one or more of the following movies. They're pieces of art you can access easily from the comfort of your own home.
1.
One Last Dance
If you want to feel all the love—from sexual passion to love for an art to love through the eyes of a child—this is the movie for you. Patrick Swayze and his wife, dancer Lisa Niemi, co-star in a heart-opening independent film that chronicles three middle-aged friends reconnecting with their bodies, their dance practice, and each other as they grow into the teachers, dancers, lovers, and parents they're meant to be. If you're interested in the realizations that can come from breathwork, hypnotherapy, and meditation, this film also has sequences that depict dropped-in states of heart-centered self-awareness—including the trailer, which you can watch here. One Last Dance is included with Amazon Prime and is free on YouTube.

2.
Ruby Sparks
What begins as a creative romantic comedy becomes a tour of the pitfalls of narcissism, codependency, projection, expectation, and fantasy—and the futility of trying to control your mate. You'll laugh, maybe cry, and probably think about your relationship in a healthier way. Watch the trailer here or rent Ruby Sparks for as little as $2.99 on Amazon.

3.
Collateral Beauty
Will Smith, Keira Knightley, Kate Winslet, and Helen Miren (to name a few of the artists in this star-studded film) take viewers on a journey of awakening that involves questioning some of the most momentous forces in our lives: Love, Time, and Death. Watch the trailer here, then grab a box of tissues and buy the digital download on Amazon or YouTube.

4.
Crash
Ready to go deep? This emotionally intense film pits the soul against the worldly forces that keep us all from seeing one another. An impressive cast powers a passionate examination of race, gender, socioeconomic hierarchy, and the unconscious psychological wounds that perpetuate our disconnection from ourselves and each other. Crash will have you thinking and feeling about everything and leave you ready to lean into love and connection. Watch the trailer here or rent Crash on Amazon for as little as $2.99.
Want to fill your feed with inspiration? Follow Iphelia on Facebook or Instagram to join us as we explore other sources of inspiration, healing, and feeling in the months to come!
Top Image: Patrick Swayze and his wife, Lisa Niemi on the red carpet at the 1989 Academy Awards, March 29, 1989. Photo by Alan Light. Heart Chakra Treatment applied to the original by Erick Kenneth French.

print page